Complete protection
The iSkin Duo for iPod nano looks great, feels great and works great. In a class of its own, the patent pending dual layer design creates beautiful color combinations that make every iPod nano as unique as you are. The iSkin Duo for iPod nano comes in eight color combinations that include glow-in-the-dark.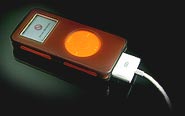 Get charged
The Duo sports integrated port covers for both the docking and earphone ports to keep dust and dirt from entering the iPod when not being used.


Glow with the flow
In true iSkin style, the Duo for iPod nano is available in our Ultra-Glo phosphorescent colors that glow a vibrant blue after being exposed to light.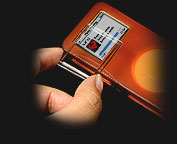 Clearly protected
The Duo's ultra-clear polycarbonate screen protector sits above the iPod nano's screen to prevent scratches and damage. It also helps to protect against objects coming in contact with your screen while the iPod's in your bag or pocket.


Stay connected
Included with each iSkin Duo is the newly designed RevoClip2, iSkin's new removable rotary belt clip that keeps you and your iPod connected.
Get a grip on things
Micro-goosebumps and a non-slick surface gives you a sure grip on your iPod nano even with moist hands. It's also great when placed on your dashboard or any angled surface.



Shock treatment
Eight point inner-layer shock absorbers help to protect in case of accidental drops. They also double as sure grips to keep your iPod nano safe in hand.

Cap it off
Though the Duo has built-in click wheel protection, it includes an additional iSkin Wheel Cap to give you the tactile feel you are use to when scrolling through menus.
| | |
| --- | --- |
| Filter by iPod Model | iPod nano (1st Gen) |
| Material | Silicone |
| Features | Belt Clip, Glow-in-the-Dark, Screen Protection |