iCandy cases, too tempting to resist.
Introducing the new iCandy cases for the 1st Generation iPod nano. Available in 10 colors, including three glow-in-the-dark colors. These silicone cases have the absolute best feel of any cases of this type. A very satisfying silky smooth feel. They have a special anti-dust coating called OAD. This coating virtually eliminates the nasty problem other silicone cases have of picking up unwanted lint and dust.


Available now for the new 2G iPod nano!
All 10 colors available sized to perfectly fit the 1st GenerationiPod nano 1GB, 2GB and 4GB. Also available for the new 2nd Generation iPod nano (aluminum).

Special invisible film provides extra protection against scratches.
The iCandy cases come complete with a lanyard, a screen protector, but also a protector for the shiny back of the iPod nano. Simply apply the special transparent film before inserting the iPod into the case and your iPod is completely safe from scratches. Otherwise, any dust or dirt can get between your iPod and the protective case. Over time, this dust will move around, especially when taking the case off and on the iPod, causing scratches. But not with iCandy cases! Every iCandy case includes one front and one back film for your iPod nano. Inexpensive replacement shields are also available.


Convenient lanyard lets you hang out with your iPod nano.
The iCandy cases come with a lanyard that attaches to the bottom loops, so you can easily see the screen upright and control your tunes.


ScreenShield Application instructions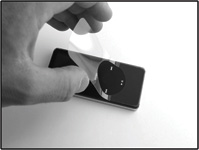 Step 1:
Hold ScreenShield on the edges and lower into position. For best results, curl film back onto itself when lowering.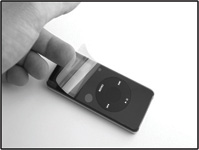 Step 2:
Do not rub or press the film. ScreenShield is designed to stick down by itself.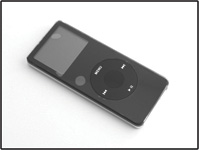 Step 3:
Once film is down, minor bubbles will appear. Leave film overnight and bubbles will disappear. (could take 24-36 hours)
| | |
| --- | --- |
| Filter by iPod Model | iPod nano (1st Gen) |
| Material | Silicone |
| Features | Lanyard, Screen Protection |