The longest range remote control for iPod.
Now you can control your iPod from up to 150 feet away, even through walls and floors, with the iJet remote control with Dock Connector. Unlike other RF remotes, the iJet offers a pass-through connector allowing you to connect to a charger or a computer directly through the iJet. The iJet also lets you control video and music clips from the new 5th Gen Video iPod. The new iJet with Dock Connector will support all iPods with dock connectors from 3rd Generation forward.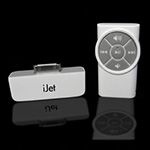 The iJet is the only remote for iPod with a pass-thru Dock Connector. This means you can connect it to an iPod speaker system, adding remote control to any iPod speaker system. When connected through the iJet, you will be able to change tracks, and pause or play when connected to an iPod speaker dock. If the iPod is connected to a stereo through the headphone port, you can also control the volume from the remote.

iJet Remote with Dock Connector features:
Designed for any iPod with 30-pin dock connector (3rd Gen forward)
Remote control works up to 150 feet away
RF signal travels through walls, ceilings and floors
Pass-through 30-pin dock connector (allows charging/syncing)
Includes RCA Stereo to headphone cable to connect to a stereo
Available in black or white
| | |
| --- | --- |
| Filter by iPod Model | iPhone 4 & iPhone 4S, iPod classic, iPhone 3GS & 3G, iPad, iPhone EDGE, iPod mini, iPod with Video (5th Gen), iPod (4th Gen), iPod (3rd Gen) |
| Features | RF Remote |